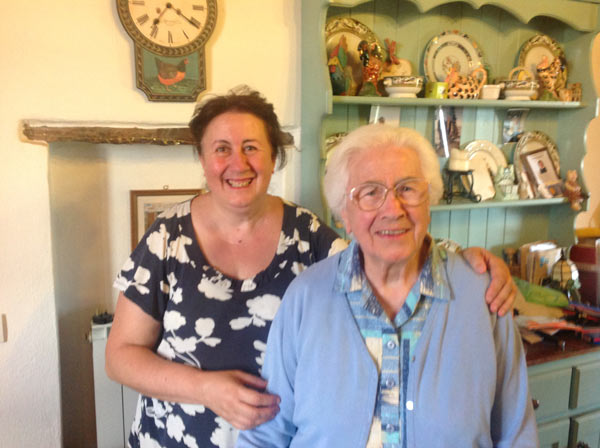 Born in London to Italian parents, I have always been very proud of my heritage.

As a young child I loved coming to Italy with my parents and two sisters to visit my grandparents, aunts, uncles and cousins. I remember the long but exciting train or car journeys, and the loving welcomes we would receive when we arrived. I have endless memories of the fun times spent with our family in Italy, and a large part of these include the kitchen and the smell of my grandmother's wood oven used to prepare delicious food for the large family meals we would enjoy together. I remember too the wonderful garden where the fresh fruit and vegetables were grown, and in particular my grandparents picking the delicious tomatoes to fill enormous baskets, while I stood eating them. It is because of these special memories that from a young child I would dream of one day coming to live in Italy.

The kitchen has always been the heart of the home and where I would watch my mother prepare delicious meals, using the same recipes and traditions passed down from generation to generation to create amazing dishes for the family to share. It is thanks to my mother's passion for cooking that influenced and inspired me the most in the kitchen, and in turn led to my own love of cooking.

In 2002 my childhood dream came true!!! I moved with my family to live in Tuscany where we bought and restored an old farmhouse in the countryside, just below Cortona. A few years later I opened a language school offering Italian language and culture courses to foreigners - Cortona Language Centre. Realising the fascination that foreigners have for Italian food, and because the Italian language is so rich in culinary references that appear in proverbs, idioms, songs, art, cinema and literature, I also decided to offer cooking classes combining the two, learning Italian through cooking.

And so I did just that, offering hands on Italian cooking classes and Learn Italian in the Kitchen courses in Netta's Kitchen at Cortona Language Centre, located in the centre of Cortona in a beautiful and historical palazzo at Via Nazionale 42. I also run courses from my restored farmhouse just below Cortona.