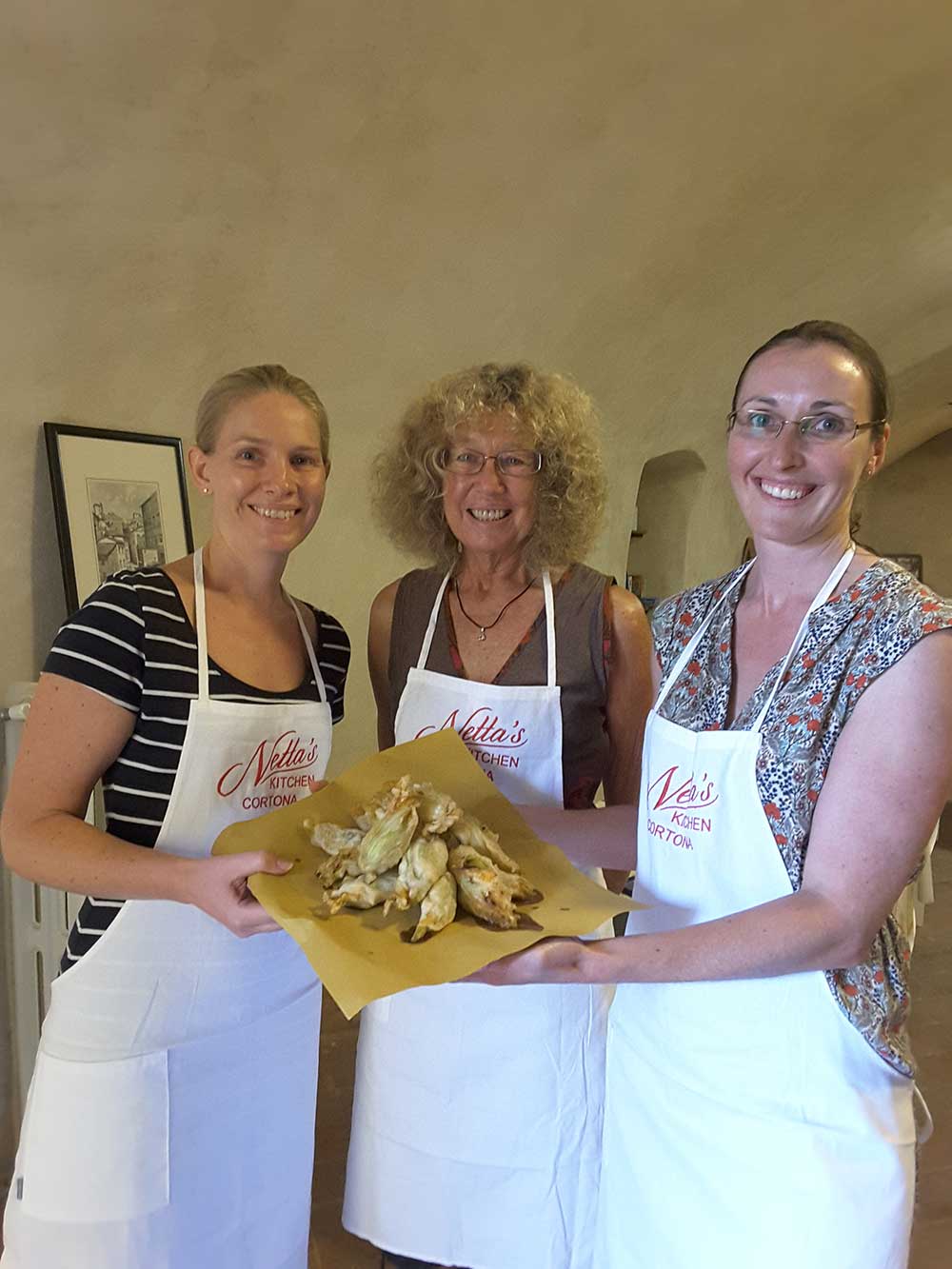 Are you visiting Cortona and would like to do something fun with your friends and family for half a day? Or maybe you would like your children to have a fun morning at Netta's Kitchen learning how to make fresh pasta or pizza. If your answer is yes, then why not join us at Netta's Kitchen for a fun, authentic and hands-on cooking class.
So, roll up your sleeves and let the fun begin! Expand your mind to discover the secrets and traditions of good home cooking while learning how to prepare typical Tuscan dishes using fresh local produce and recipes passed down from generation to generation. Sit down together to relax, chat and enjoy the dishes you have created, learning a little Italian the fun way!
Cooking classes take place at my home - a restored farmhouse set amongst working farmland just a five minute drive down the hill from the centre of Cortona and where in the Summer we are surrounded by fields of sunflowers or wheat.

Why not choose from one of the following options:-
TUSCAN MENU
Learn how to prepare a typical Tuscan 3 or 4 course meal.


PASTA & BASTA
Learn how to prepare three different types of fresh pasta and sauces.

CHILDREN IN THE KITCHEN
A course dedicated to children where they can have fun being a chef and learning how to prepare fresh pasta or pizza, before they sit down to eat the delicious food they have created. A perfect option for parents or carers to have some free time away from the children to shop or just relax. Minimum age is 6 years.
FAMILY PICNIC
Something for the whole family or group of friends to do together and have fun! Have fun and learn how to prepare a typical Tuscan picnic. After the class finishes you are then able to take your prepared picnic away with you to enjoy wherever you like, or if you wish, you can eat your lunch in our large garden with your family and friends.
Important Note
We ask you to respect Covid regulations and wear a mask whilst indoors.
You are also asked to respect our "no smoking" policy both indoors and outdoors on the property.